Already sell on Shopify, but do you believe that the time has come to switch to another lucrative marketplace – Amazon?
What a fantastic decision!
Now you will have a chance to compare what it takes to sell on Amazon vs Shopify. But, more importantly, you will reach more prospects on the most popular marketplace and will bring your items in front of them. And you know the math – the more people see your products, the more likely you are going to sell, and the higher your revenue is going to be.
Let us show you how you can complement your Shopify store with Amazon without breaking a sweat.
An Old Hard Way – Manually
Things don't come easy sometimes. In some cases, you may want to put some effort and do the job manually. Perhaps, because you think this is the best way to deal with any task. Or maybe you are simply not aware of other more effective ways of handling your work-related routine.
Anyway, you may consider moving all your products from Shopify to Amazon manually. This may involve downloading the excel files from Shopify, editing them according to the Amazon policy, adjusting images, etc.
That's not the funniest part about being a seller – monotonous work that never ends. Especially if you have thousands of goods on Shopify.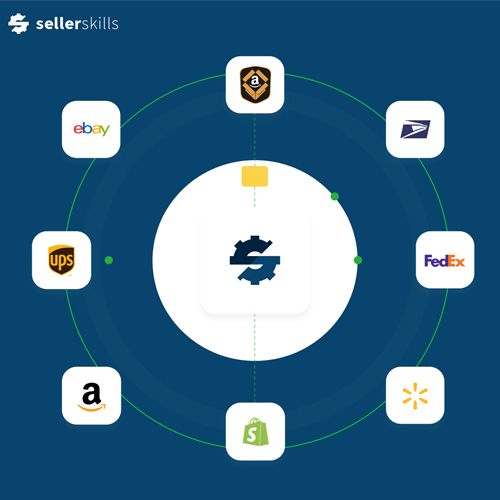 A New Simple Way – Importing
There is a simple trick some sellers refuse to adopt in their business – digitalization. The use of apps like SellerSkills would allow them to deal with their day-to-day challenges much easier. Especially when running a multichannel business.
How can apps like SellerSkills help you move products from Shopify to Amazon? That's very simple – thanks to the Shopify and Amazon integration. With this tool, taking your items from Shopify to Amazon is a matter of minutes:
You register in the app.
You sync the main marketplace with the app.
You add other marketplaces.
You import products from the main marketplace to other integrated channels.
That simple!
How to Manage Listings, Inventory, Orders in Shopify and Amazon?
If you are using apps that have the modules for supporting listing, inventory, and order management for multiple channels in one hub, you save tons of time.
You add new products to multiple marketplaces simultaneously.
You keep inventory accurate and centralized.
You manage multichannel orders from one dashboard.
You arrange to ship for all channels from one app.
You get a better view of your stores' performance.
No more clunky Excel files for recording statistics or spreadsheets for running the inventory. Smart tools will do the calculations for you and provide you with the metrics in an eye-friendly way. You will also spare yourself from the need to update the inventory manually after every purchase. When the customer buys an item from you, the inventory will be automatically synced across all integrated channels. No more overselling and disappointed customers. Isn't it awesome?
Wrapping It Up
By using multichannel management software for eCommerce sellers, you will optimize your workflows and be selling on Shopify and Amazon with ease.