Once, for whatever reason, you start watching female golf matches, you will not be able to leave it due to the ladies' golfers blessed with hot bodies featured in the fields.
These sexy female golfers relish a great fan base on Instagram due to their sensual figures apart from their golfing caliber.
Here, we have listed the topmost LPGA beauties who are ruling the golf industry and making fans go nuts due to their glamorous features.
Top Sexy Women Golfers
1. Paige Spiranac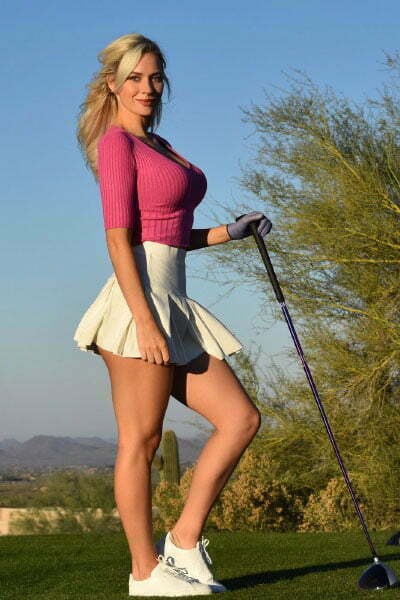 First on the list is a true beauty holding the award for 'The PWI Most Beautiful Woman in the World in 2020'.
Paige is a pro golf player widely acclaimed as one of the hottest players irrespective of the sports category, which her followings on socials justify.
The stunningly gorgeous Paige Spiranc has been recently named 'Sexiest Female Athlete of the Year in 2022'.
This true blonde beauty will be 29 years old in 2022.
2. Lexi Thompson
Born in 1995, Lexi is an American professional golfer. In 2010, Thompson signed an official sponsorship deal with Cobra-PUMA Golf and Red Bull.
She took under her name a major championship in 2014.
Lexi Thompson is also a fan of Ice hockey.
She made it to the covers of magazines a number of times.
3. Paula Creamer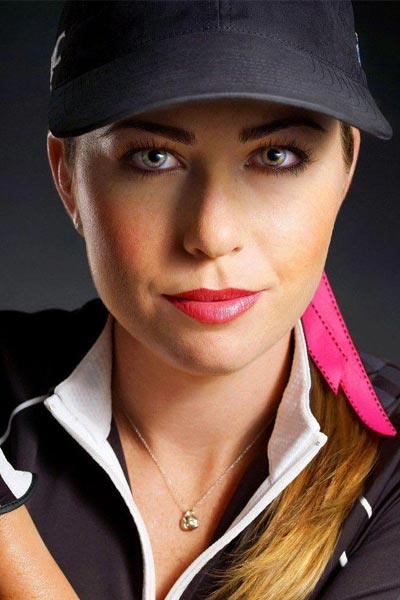 Paula Creamer is a 1986-born golfer on the U.S. based LPGA tour.
Paula is of American nationality and has done many advertisements.
During the peak time of her career, she even made it to the list of the ten highest-paid female athletes.
4. Cheyenne Woods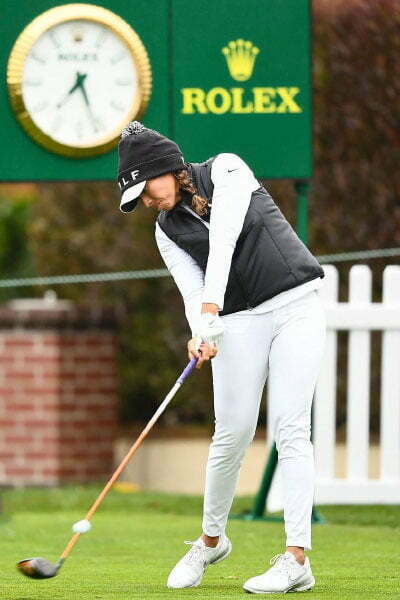 Woods is a 1990-born masterful American golfer.
She won the Volvik RACV Ladies European Tour in 2014 and the SunCoast Ladies Series LPGA international in 2012.
She disseminated the information that her paternal grandfather had coached her first before any formal training in an interview.
Cheyenne Woods is married to Aaron Hicks.
5. Natalie Gulbis
Belonging to California, this American female golfer, early in the golfing realm, won her first tournament at seven.
Natalie Gulbis is an LPGA tour female golfer with a great personality.
Natalie had the opportunity to be in the Sports Illustrated Swimsuit issue in 2012.
6. Maria Verchenova
The most notable achievement she had is to be the first Russian female golfer to have become a full-time member of the Ladies European Tour.
Marie Verchenova is a Moscow State University of Sports graduate who began her golfing career at a young age.
Marie was nominated for the best Russian player in 2004.
7. Kathleen Ekey

Another beautiful female golfer on our list is Kathleen Ekey.
Born in Cleveland, Ohio, Kathleen is a married American sporting national female LPGA golfer.
Kathleen joined the LPGA Tour in 2012.
She had played Golf at her college, Furman University, first and turned professional in 2009.
8. Sharmila Nicollet
Sharmila Nicollet was born on 12 March 1992 and is an Indian.
Sharmila, alongside golfing, holds profanity for swimming as well.
Nicollet is the youngest Indian golfer to have qualified for the LPGA Tour she took in 2012.
She will be 31 years old in 2022 and won her first tournament at 15.
9. Belen Mozo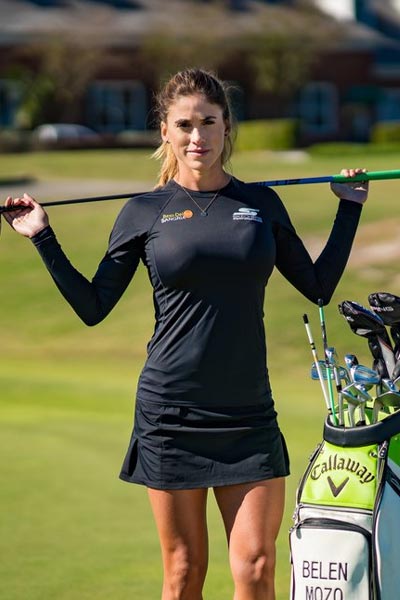 Belen Mozo is a Spanish professional golfer who grabbed the title of British Ladies Amateur Golf Championship in 2006 as an amateur.
Mozo was born in 1988, and she resides in Florida.
Passed out from the University of Southern California, she turned professional in 2010.
She has not won any LPGA majors during her golfing career but has tied a couple of them.
10. Sadena Parks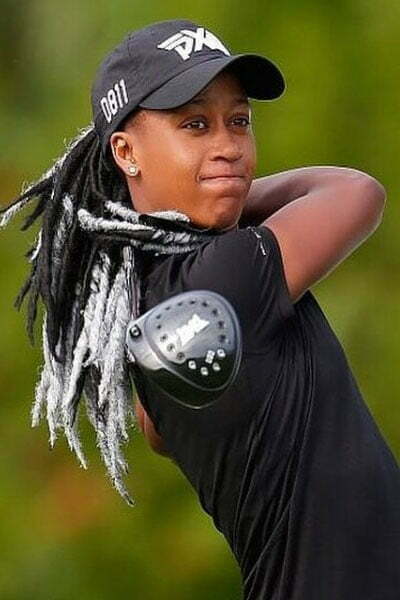 Parks is an exquisitely beautiful professional golfer of American nationality.
She made her golfing debut in 2013; she is currently(2022) 32.
Sadena is the fifth African American to have earned an LPGA Tour card.
Sadena Parks was also seen in a reality show called 'Big Breaks Florida.'
11. Carly Booth
This madly beautiful female golfer is of Scottish nationality.
At the age of seventeen, Carly enjoyed the pride of becoming the youngest Scot ever to qualify for the Ladies European Tour.
Carly belonged to the Scottish sporting nationality and had been the youngest-ever Scot to make it into the Ladies European Tour.
Born in 1992, she turned professional in 2009.
12. Anna Rawson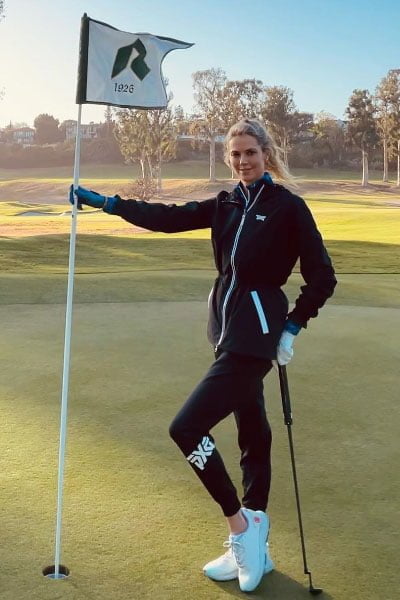 Born in Adelaide, Austria, Anna got her first modeling break at the age of 16 with a magazine cover contest.
Anna took her LPGA Tour between 2008-2010 and her Ladies European Tour between 2006-2007.
Anna Rawson debuted her professional golfing career in 2004.
Anna had a good scoring ranking of 94 in the 2009 LPGA Tour.
13. Nikki Garrett
Nikki Garrett is a gorgeous 38 years old Australian professional golfer.
Nikki participated in the 2006 and 2007 LPGA tours with two wins scored in 2007.
Also, this tempting lady was born in South Wales and initiated professional golfing in 2005.
14. Beatriz Recari Eransus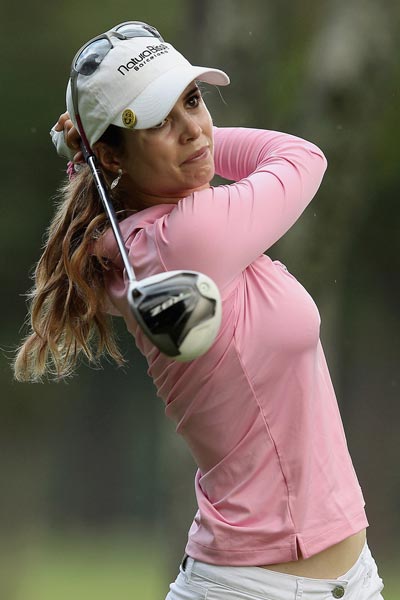 She is a professional golfer with four wins under her name.
Born in northern Spain, she contributed her funding from RR Donnelley LPGA Founders Cup to The Alliance for Eating Disorder, disclosing her struggles with the same in childhood.
Recari was nicknamed Iron Women due to her making a cut in all of the 27 events in 27 LPGA official events.
15. Sydnee Michaels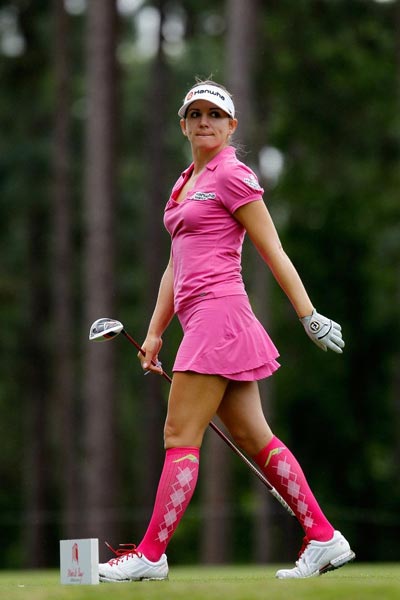 Sydnee is known for having been awarded the 'Future Rookie of the Year Award in 2011.
Born in 1988, Sydnee took under her belt two wins in her professional career, which was professionally initiated in 2010.
As an amateur, she won the Junior Solheim Cup in 2005 from Britain.
16. Courtney Harter
Along with the LPGA Tour, she is also an active participant in the Ladies European Tour.
Belonging to Clearwater, Fla Courtney had been ranked 48 nationally by the American Junior Golf Association in 2006.
Courtney has received a degree in mass communication.
17. Lily Muni He
Lily Muni is an LPGA Tour golfer belonging to Chinese sporting nationality.
She showed an inclination to golfing in the early phase of her childhood, around 5. Right from there, she started participating in Kids Golf and American Junior Golf Association events.
Lily earned 53rd place at the U.S. Women's Open on her 2015 LPGA Tour.
Reportedly, this stunning lady had then signed endorsement deals with Nike and WeChat.
18. Blair O'Neal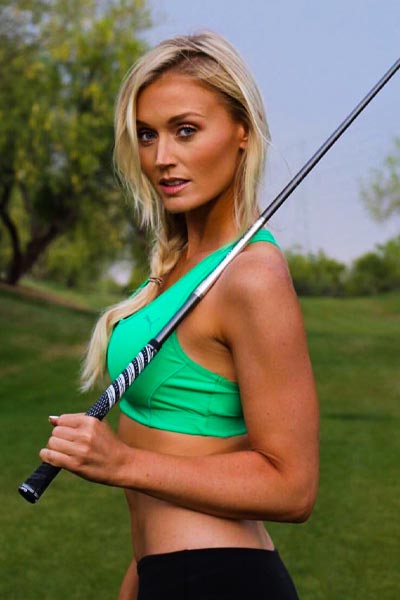 With her charming personality, Blair made it into the "Top 50 Hottest Athletes of All Time" list.
She is a well-known media personality.
In 2013, Blair O'Neal played for the American Juniors Golf Association, that being her first game. There, she was selected as the best junior golfer during high school.
She currently owns the women's 5A Arizona state golf championship.
This heavenly, beautiful lady not only owns a successful golf career but has a happening modeling career, too.
In 2016, Blair appeared in the short film' Gentleman Only Ladies Forbid Puddy Mcfadden's License to Golf.
In 2013, she got engaged to the love of her life.
19. Lucy Robson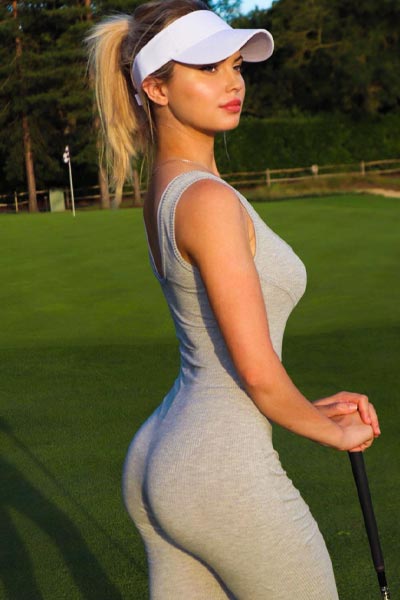 Owning not only titles but an excellent figure, Lucy is a hot female golf player of British nationality.
Born on 10 March 1995 in the United Kingdom, she was given the title of Treasure Coast Player in 2012 and 2013.
Lucy Robson has a crazy, huge & loyal Instagram follower base.
20. Sophie Horn
Sophie is a female golfer born on 1 January.
Sophie co-moderated a popular show 'Show Me The Golf' in 2007.
She is a four-handicap golfer and a model additionally.
This stunning lady of British nationality was titled "The World's Sexiest Golfer."
Sophie even became a golf nurse and contributed an article to a magazine called "Golf Punk Magazine".
Conclusion:
These LPGA female golfing eye candies have had a decent golfing career arc, and their beautiful faces don't take away the fact that they have great merits, and their looks work as a cherry on top. It would be criminal to compare these hotties as all of them being uniquely positioned. Keep reading Medium Buzz for more spicy news like this.