Once in a while, a living room renovation may be well worth it. Think about it: nothing is duller than plain white or even grey walls. While grey has been a popular color in recent years, it reminds you a lot of a somber day. You don't want to gather with friends in a triste room and relax, do you? Living room renovations appear like a big job. But you'll love the end result and be happy you've done it. Some prep work is certainly involved and you may want to take advantage of a professional junk removal service like this.
1. Create a Design Plan
Before you even start to clear your living room, you need a clear vision of what you actually want. Which color shall the walls have? Should you change the flooring? Are you going to upgrade some furniture? What are you going to do about curtains and blinds?
It might be well worth it to use digital home staging to visualize your ideas. You avoid ending up buying a bunch of colors and/or different wallpapers. Before you renovate, you know exactly what it will look like – or at least get a very good idea of your result. It happens too often that you buy a new color and realize you don't like it once applied. Digital staging also allows you to try out new setups, such as putting the sofa into another spot. You can play with several layouts without having to shove around furniture.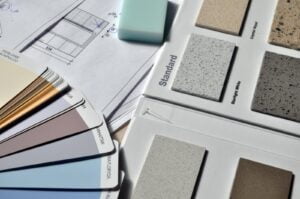 2. Set Yourself a Budget
After you made up your mind about the design you should not lose focus of your budget. Just like making mistakes with colors you easily end up overspending. You're hardly at a home depot and find all these additional bits and pieces – before you know it, your bill rises. 
It's certainly cheaper to do renovations yourself. You may get some additional highlights when you can save on contractors. Painting walls or applying new wallpapers isn't exactly hard. Painting is even easier than hanging wallpaper, but you find a lot of tutorials online to help you along. 
Should you not have the time, collect estimates of several contractors for your project. Of course, you'll seek out the cheapest. Pay attention to the small print and make sure there are no hidden costs in any of the estimates.
3. Prep the Living Room
Now that you've decided on a design layout and probably chosen a contractor, it's time for some prep work. You can't renovate your living room with all the furniture inside of it. You might be able to, but it'd make the renovation process rather tedious. 
Declutter your living room
Decluttering your living room should be the first step. Even though it's just one room, it may take you a while. It certainly depends a lot on it, how much stuff you're keeping in your living room. You don't have to do the decluttering all in one go. Split your living room into four sections and do one after another. Set yourself a timer and take a large bin bag with you. Put everything inside of it that you haven't looked at or used in at least a year. Put it aside for junk removal at a later point.
Hardly any living room renovation comes without letting go of some furniture. Take a good look at it. Do you still like it? Does it still suit your style? Will it fit into the new layout? Has it seen its best days? Contact a junk removal service nearby to get on with your renovation asap. Junk removal services are often available at short notice and are around on the same or the next day. There's no heavy lifting implied for you at all. They'll happily haul out anything you want to get rid of from where it's currently at. Don't forget to hand them the bin bags of everything you pulled out during decluttering. If anything of it is still of use, junk removal services take care of donating it to charities. That means, one problem less for you to worry about and your focus sweeps back towards your project.
Clear the living room. Completely.
After junk removal, you'll have to clear your living room of all the other remaining items. Of course, this doesn't apply if you decided to let go of all your furniture for junk removal. You'll need a temporary spot to put your bookcases, TV stand, armchairs, etc. Remove all lamps and wall art. You may want to change those anyway, too.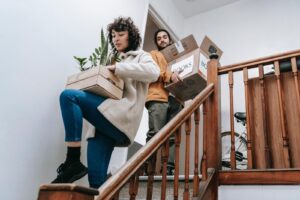 4. If You Change the Floor, Now is the Time
After your living room has been cleared, it'd be the perfect time to change your flooring. Now. You could certainly already paint walls, but carpet removal is quite a dusty job. Painting or hanging wallpapers before you remove the carpet might mess it up and you can start all over again. 
Should you decide to upgrade your windows or add french doors, it's also best done after carpet removal. Though it'd also result in a lot of dust and dirt, it's easier to clean. Alternatively, you'll have a lot more dust and dirt coming up with carpet removal.
Did you know most junk removal services also do carpet removal? You'll need quite some strength and time to do it yourself. The sooner that part would also be done, the sooner you can get on with the renovation. 
Parting Words On Living Room Renovation and Junk Removal
 If you decide to remove your carpet as well as furniture, clear the room for removal before the pros arrive. They can haul out any furniture and junk to start with carpet removal directly thereafter. It'd save you lots of precious time, effort, and money. Imagine, if they had to come out twice for you. Of course, it'd get more expensive. You neither have to be home for them nor do you have to worry about cleaning up. Such services always clean up after they're done. If that doesn't make living room renovations completely stress-free, what does?