It is the best feeling to have your own home amidst the lush green landscape. The beauty enhances more with an extended yard just behind your front door. However, front yard landscaping ideas are not always bank-breaking; neither are they difficult to maintain.
A DIY landscaping idea for the front yard is about making a space that simultaneously meets your demand and taste. You need time and a little bit of creativity to make an eye-soothing landscape. So, pick up all the unused materials like rocks, pebbles, and wood and start experimenting today. A combination of evergreen plants and seasonal flowers is perfect for making your landscape look amazing and out of the world.
Cheap Simple Front Yard Landscaping Ideas
Keeping in mind the taste of people, here are 36 front-yard landscaping ideas to decorate the entrance. Whether you are searching for a classic, a modern, or a very simple and cute one, we are sure you will get what you want.
1. Country-style Flower Wheelbarrow
This is indeed quick and simple. If you are the one searching for small front yard landscaping ideas, take out your old wheelbarrow. Decorate your tiny garden with germanium, petunia, fuchsia, and other hanging flowers. Additionally, keep the wagon on a bed of pebbles surrounded by lush green grass to make it even more attractive.
2. DIY Water Pot Feature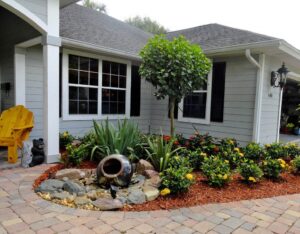 The sound of flowing water is bliss. These types of front yard landscaping ideas are for those who do not want to maintain a large pond but want the sound of water. Create a small fountain with a glazed pot and pump. Let the water circulate on a bed of rocks. Basically, it makes a great idea to set it in the shady corner along with shade-loving plants and red mulch.
3. Vibrant Succulent Stone Planters
Succulents do need much water and maintenance. However, their variety of colours will make your garden more dramatic than ever. Besides, the plants are highly resistant to temperature. Even in the intensely cold winters, they will survive with minimum maintenance. Take some Aloes and Yuccas mixed with hanging succulents and give your front yard a desert-like feel.
4. Window boxes and Floral Sheet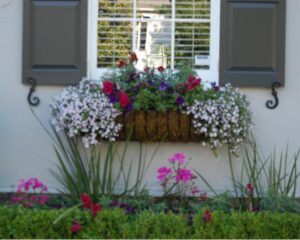 For some landscaping ideas, the front yard is the best available option. Use your visible window box and the area beneath it to decorate with seasonal flowers. Besides, you can add a border made of pave stones and put cute garden lights. This will look amazingly colourful, especially for a passerby. Try to use shades similar to the border, like the windowpane.
5. Simple Front Yard Landscaping Ideas for Small Space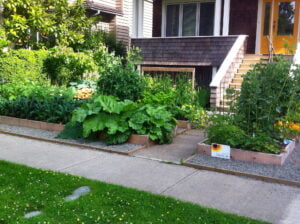 Having a small front yard? No worries !! You can still create amazing front yard landscaping ideas that are simple as well as contemporary. The concept is indeed very clear. Keep your walkway as it is and decorate both sides with the best plants. Besides, add a fence if possible to secure the flowers in their areas. This also gives a clean and posh look to the front yard.
6. Trending and Colorful Picket Fence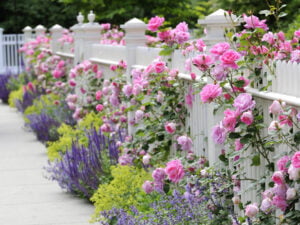 Picket fences do not look good standing all alone. Therefore, we can use front yard landscaping ideas on a budget to create a different look. Plant a few beautiful coloured flowers and achieve those stunning effects. Although roses are best to go with this, you can switch to low-cost flowers. Arrange two or three colours sequentially for that obvious harmony.
7. Elevated Flower Bed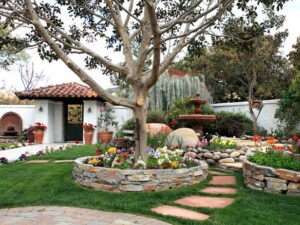 Some front yard landscaping ideas are versatile. For instance, if you have a tree in the middle of the garden, there is no need to cut it down. Instead, elevate it by decorating it with a round flowerbed. The border can be of stone or bamboo, as per your choice. In case your lawn is small, it will be a visual treat to the eyes.
8. Happening Flower Garden with Water Cascade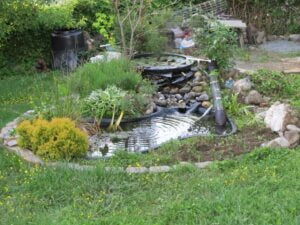 Water is always enhancing when it comes to front yard landscaping ideas. However, we understand managing a large pond of stagnant water is difficult. The western water feature goes great with plants that require less water, like rosemary, thymes, and other drought-resistant plants. Furthermore, it is advantageous in places where water resources are limited.
9. Simple Shades of Flowers
Keeping the front yard simple and natural is undoubtedly a spark when every aspect is modernising. Plant your colourful flowers and evergreens. The mesmerizing views of gerbera daisies, hydrangeas and peonies will also form a natural fence. Low maintenance is the extra advantage of these small front yard landscaping ideas.
10. Breathtaking Flower and Fountain Combination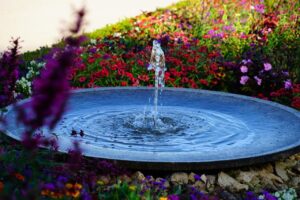 Fountains make the front yards more enchanting and lively. The thing's beauty is that it goes equally well with a small and a big yard. Put a fountain and arrange varieties of flowers at the base. Let the floor be covered with pebbles and some larger white stones. Besides, putting a bench will not be a bad idea, though.
11. Green, Green…Everywhere
Among the low-maintenance front yard landscaping ideas, putting up evergreen trees is the best one. If you are a more traditional person, plant a few evergreen trees. They will stay the same throughout the year. There is no such tough effort required to look after it. Yet they look so soothing and clean. Try Green Mound Boxwood or Creeping Mahonia and you will thank yourself later.
12. Enchanting Wall Climbers
Why not your walls when every part of your house and surroundings get decorated? There are certain dull walls just on the front side. Using wall climbers like bougainvillaea or Trumpet Vine makes the front yard look amazing.
13. Focus on the Porch Area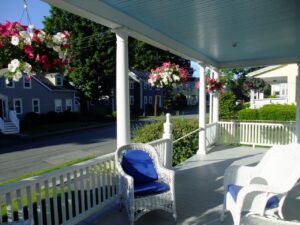 If your beautiful house has a porch, consider it also under the front yard landscaping ideas. Not necessarily, all houses will have a long yard. Petunias have multiple colours. Make use of them in the hanging pots as well as in the flowerbed patches around the porch areas. Also, pave the area with white stones to complete the look.
14. Embellish the Tree Stump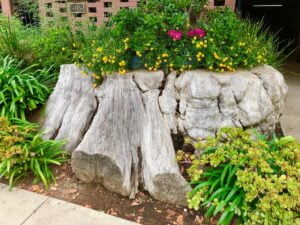 Creativity lies around everything. The tree stump, which you did not notice, is your subject now. Crown the stump with colourful flowers. The simple and country look augments the beauty of your house. Moreover, the stump will provide essential nutrients and water to the flowers.
15. Square and Simplified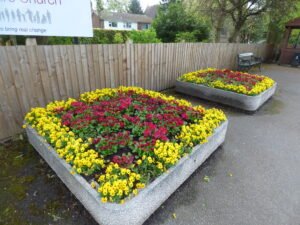 Making a square flowerbed and restricting them inside it looks tidy. If your house has a concrete front yard and you like to have it, place a simple square platform. Add colourful flowers and greenery to it.
16. Changeable Pots for the Beginners
As a novice gardener, you may not take up all the front yard landscaping ideas in the first place. This is, on the contrary, the easiest way to decorate. Use seasonal flowers in the pots and arrange them along the edge. Make the bed of your choice. It may be gravel or colourful stones. Along with the change of season, remove the pots and add new seasonal flowers.
17. Flower Bed Mail Box
Why keep the mailbox standing all alone? Circle it with stones and a few colourful flowers to it. The display of colours is going to make every passerby happy, including the mail carrier. No matter how much smaller your front yard is; you can opt for this option anytime.
18. Rustic Design with Small Flower Bed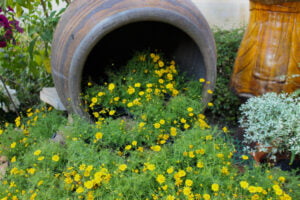 It becomes more charming when you give rustic looks to your front yard landscaping ideas. Colourful flowers surrounded roughly by stones and an old pot or vase looks mesmerizing. The view can be more contagious if the flowers are set in a spilling manner from the vase.
19. The Asymmetrical Arrangement of Colors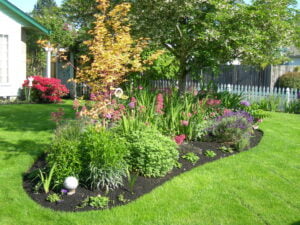 Adding a variety of colourful flowers to the bed without maintaining harmony is also a beauty. It definitely boosts your home's curb appeal. The dynamic design will allow you to arrange flowers as you prefer. A hint of greenery is not bad too.
20. Evergreen Shrubs on the Go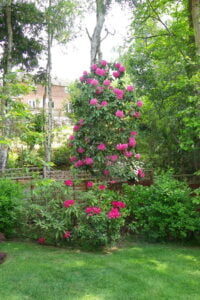 Colourful flowers are attractions in front yard landscaping ideas. However, it will be offbeat and unique if you want to stick to the simple green and coloured herbs. Rhododendron, Winter Creeper or Lavender are a few shrubs to choose from. No extra maintenance and no extra effort are required.
21. Tidy Flowerbed Lining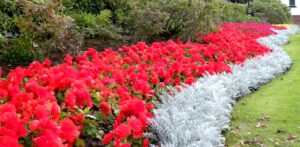 Whatever you have in the middle of the front yard, if the perimeter is surrounded harmonically with flowers, it looks great. For instance, select two different colours of flowers and line them up with bush intervals. However, this requires proper care. If not taken care of, flowers may not stay in place and make the whole view messy.
22. Large Front Yard Decoration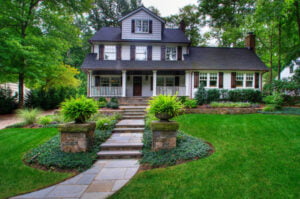 A large front yard gives ample options for landscaping. Make an archway using roses or bougainvillaea if you have a bigger one. Rows of symmetrical woody trees will be great also. Besides, you can make elevated bases to keep unique vases of flowers of herbs on both sides of the walkway.
23. The Tub Affair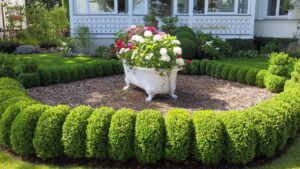 Do you still have the old bathtub of the 70s in your possession? If yes, front yard landscaping ideas like this are successful. Ornament the tub with beautiful Marigolds, petunias, and geraniums. You can either keep the tub on pebbles or encircle it with small bushes.
24. The Bike Planter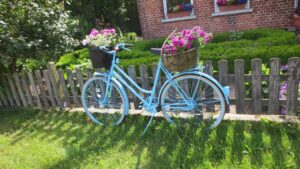 Old bicycles or bikes are of no use. However, you can use them in the front yard landscaping ideas perfectly. Convert the front end and the rear ends into baskets that carry flowers. You can use colourful annuals and creepers. Lean it against a tree or the fence. Besides, add a signboard if you want to give it a chic touch.
25. The Playful Tulips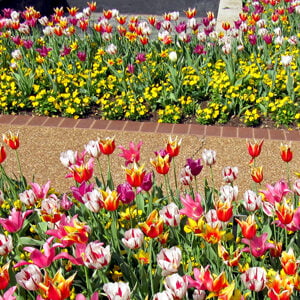 The beauty of tulips lies in their long stem and the variety of colours. They can make any front yard look wonderful. From March to mid-May, the tulips will line up along the walk away. This is so very alluring and compelling.
26. DIY Log Planter For Front Yard Landscaping Ideas
Logs are often found of no use. But you can make a beautiful planter out of it. It is easy to make and gives a beautiful natural look to the front yard. This is, in fact, an exceptional idea that everyone must try once.
27. Modern Front Yard Landscaping Ideas
With growing time, we are getting into more confined spaces. The modern front yard is a combination of shade-loving and light-loving plants. They must also match the interior and look subtle. You can also add lights for extra effect at night.
28. Lighting the Walkway
Lining the walkway with solar lamps has a dual function. First, it looks incredibly beautiful at night, and second, it helps to find our way. Therefore, combining solar lights and flowerbeds is the best idea. Moreover, they are inexpensive and convenient to use.
29. Coziness Near the Fire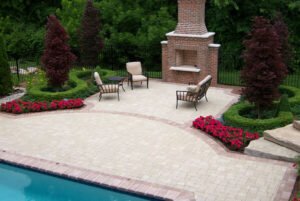 A fireplace is an advantage if you have a comparatively bigger front yard. Surrounded by seasonal flowers, it is a good feeling to enjoy the winter cosiness with heat. Besides, two or three chairs or a couch will be an added advantage.
30. Shrubs for Edging
Making edges makes the total landscape tidy and sleek. How about making one with shrubs instead of stones!? They look different from the traditional ones. Boxwood or Cinquefoil makes great edges along the driveway or walkway.
31. Front Yard Landscaping Ideas with Desert Decor
Low-maintenance front yard landscaping ideas always have a special liking. Decorating the house front like a desert is one such idea. Take a definite area and plant your favourite succulents. Then fill the space with pebbles. Additionally, no need to worry about the plants; they can persist in harsh weather conditions.
32. Raised Garden Bed-Easy Front Yard Landscaping Ideas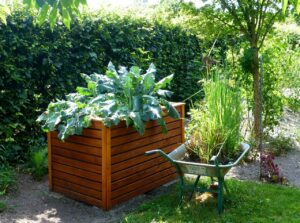 Without doing much effort, proper arrangement of garden beds can make your yard eye-catching. You can make a DIY garden bed with large or small wooden boxes. Besides, when the colourful flowers show their presence, the front yard becomes exceptional.
33. Eloquent Accessories for Front Yard Landscaping Ideas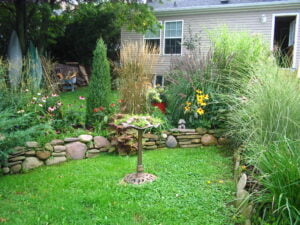 Only flowers do not make the front yard expressive. A few accessories also make your favourite corner more lively. For instance, you can put an old iron stand with flowers as the centre of attraction. Conversely, you can use newly bought gnomes and lamps to decorate the space.
34. The Cozy Corner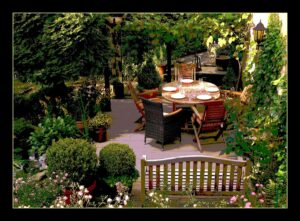 Front yard landscaping ideas do not always have to be flower-based. A simple cosy corner is also a brilliant idea. To summarize, just a few evergreen shrubs and a place to relax are what you need to be comfortable.
35. Metal Swing to Sway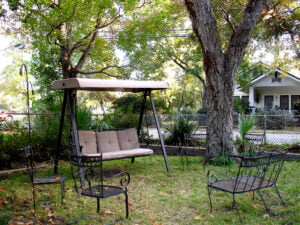 Both kids and elderly people love to sway in the swing. Having a swing in the front yard along with the greens is a happening thing. Hence, relaxation and exquisiteness will walk hand in hand with this idea.
36. Rustic Rocky Edges with Colorful Flowers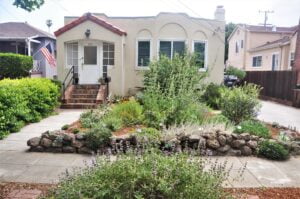 It always feels good to have a country-like appearance in the front yard. Untidy flower beds are not at all commendable. Besides, the total scenario remains clear if the edges are kept surrounded by rocks. Additionally, the presence of colourful flowers makes the view more alluring.
Wrapping Up
Every design and décor changes with time. Modern ideas are more subtle and technologically based than rustic ones. They do not have many flowers or plants. Rather they are more inclined to make specific water beds, well-polished stones, and lights.
However, nature has always given us good things. Therefore, front yard landscaping ideas must include greenery and colourful flowers.