Whether you stay at home or a working person, the two vital and messy areas of the house are the kitchen and laundry room. You need food to live and clean dresses to wear. Therefore, it will be amazing if you get some good laundry room ideas.
Even if you have a small area, with little effort you can organize it using a minimalist design. Besides, it is going to be a very useful and work-worthy space. The basics of the laundry room remain the same. Your washer and dryer, baskets, and other essentials are obviously required.
The laundry room should not be a damp and boring place to be. It should be lively like all other rooms so that everyone can do their task happily. However, when you have a small space, arranging other things along with it becomes a difficult task. Therefore, here we are discussing those ideas that are good to go for larger as well as smaller spaces.
Laundry Room Ideas That Will Definitely Inspire You
Starting from the cabinets to storage, from designing to organizing, there is a never-ending list of laundry room ideas. However, the best ones are those that are eye-catching and effective at the same time. Let us see which one suits your laundry.
1. DIY Small Laundry Room Ideas
At the present time, it is really difficult to make out a separate space for the laundry room. If you have a small space, use some space-saving laundry room ideas like this one. Focus on stacking shelves vertically. Consequently, your laundry will look neat, clean, and workable too. Furthermore, the more shelves you have the more you can store essentials in it.
2. Go For A Chic Design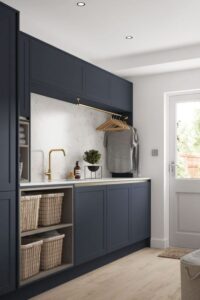 The combination of white and a dark colour has a separate fanbase. When it comes to laundry room storage ideas, you have to play carefully. Try using every inch of the small area. For instance, you can place a storage option right below the ceiling. Therefore, you can have more space to use, if you have a smaller laundry.
Decorate walls with stunning wall art. It is very important that it matches the color of your walls, so we recommend that you pay special attention to this thing. We recommend that you familiarize yourself with the laundry room wall decorating ideas from professional designers before you start decorating your walls.
3. Put An Invisible Iron Board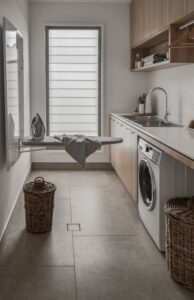 Iron board is an indispensable part of all laundry room ideas. However, in most cases, it becomes difficult to make it stand or store it correctly. It also takes extra time in arranging one. Therefore, you can switch to the built-in option, where the board simply slides in when not in use. Laundry room organization ideas like this save space and time. In case you do not have that kind of space, try using one that can be hanged on the wall.
4. Hiding The Laundry Baskets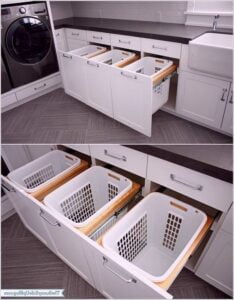 Laundry baskets do not look good with the hump of clothes in them. Unique laundry room ideas involve the hiding of these so that it looks tidier. Perfectly blend the cabinets with laundry room organizers and make the baskets invisible.
5. Enclosed Wash Sink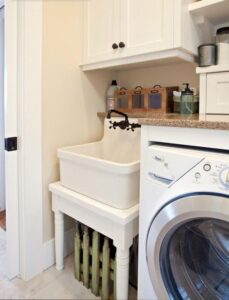 A low-lying enclosed wash sink is quite a commendable option. On one hand, it will allow easy usage of taps and on the other, it will prevent overflow of water to other areas. Besides, using water-resistant colourful tiles will add a hint of splendour to the room.
6. Stacking The Washer And Dryer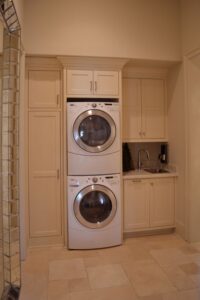 When a laundry room is small, it is extremely important that you use distinctive laundry room design ideas to use every inch of the room. Try stacking your washer and dryer. It will save a lot of space. This is especially very useful in case you do not have a full laundry room to use. If you have cabinetry only to use for laundry, this will work magically.
7. A Wooden Hint To The Laundry Room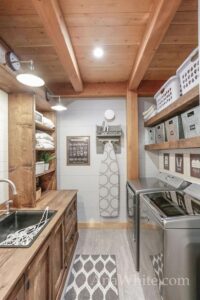 Wood gives a rustic feel to the laundry room ideas used. It is not necessary the room have to be bigger to bring that special effect. Therefore, you can make wooden beads or cabinets along with modern pieces of equipment. It will indeed look great. On the contrary, you can make the cabinets and countertops of wood and match them with the wall decor and floor.
8. Behind The Door Laundry Room Ideas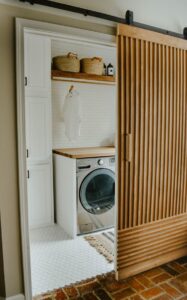 In a small apartment, it is really difficult to stay away from the direct view of the laundry. Try using an easy-to-move and sliding door to keep the laundry separate. It will save space as it is sliding. Moreover, if it matches with the wall cabinet, it will be hardly recognizable. In such cases, laundry can be used as a private room too.
9. Save Space With Wall Mount Dryers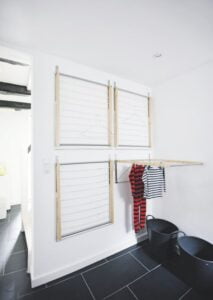 Few delicate fabrics require air-drying. They cannot make take the high heat of the dryers. Therefore, you can put up a wall-mount dryer. When not in use, they fix up the wall without wasting space. Besides, they are spaced perfectly so that the clothes dry quickly. Install a few wall mount dryers and paint them according to your laundry room colour.
10. Décor With Indoor Plants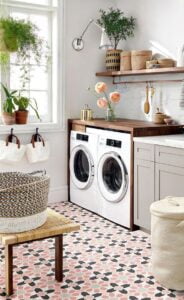 Plants generally suit every room of the house. The laundry room is not an exception. Putting beautiful indoor plants is a good option in laundry room shelving ideas. Whatever shelves you have, decorate them with a few indoor plants. It will definitely woo your guests. Additionally, you can put some hanging ones on the window to maximize the beauty.
11. Glassdoor To Prevent Noise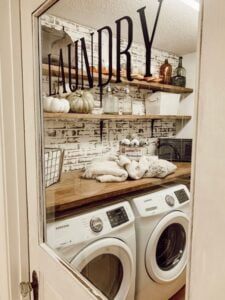 Sometimes, you need to think about laundry room ideas that involve noise suppression. This especially happens in apartments where there is less space. You may have to manage the laundry room beside the study or workstation. In such a case, a glass door is of great help. You can take a look inside and also, the noise will not disturb others.
12. Hidden Laundry In Kitchen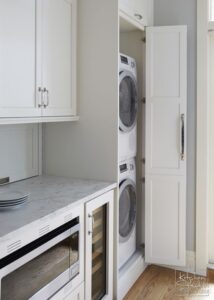 Large area kitchens can make space for the laundry. However, the thought revolves around the interior décor of the space. A hidden laundry is the best idea in this case. Just give a dedicated cabinet to the washer and dryer. Close the door when not in use. No one will be able to understand what is behind the door. Laundry room cabinet ideas work best in small apartments without any separate washing space.
13. Laundry Room Ideas Under The Stairs
The space under the stairs remains unused. Instead of using this for storing unwanted materials, you can modify this into a compact laundry room. Besides, a door can be added advantage to laundry room ideas like this.
14. Opening Up Outdoor
Laundry room decor ideas differ in position also. If you are still able to change the laundry room, it is a good idea to use the passage that opens outside towards the backyard preferably. The room remains airy in such cases. Also, it gives a country-like feel to the modern décor of the house.
15. Laundry Room Ideas Within The Bathroom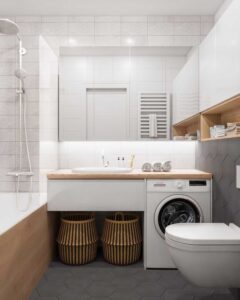 The modern laundry room ideas generally use a minimalist design to accommodate the smallest space. The vanity unit in the bathroom will cover every essential required for the laundry room. Therefore, even without a separate room, you can properly arrange laundry designs including cabinets and baskets.
16. Having A Charging Station
Whether it is a phone or a laptop, charging it wherever you go is important. Besides, the long time waiting in the laundry room can be entertained using devices. It will make the laundry task less boring. You can either have a total charging setup or a portable one.
17. Light And Airy Laundry Room Ideas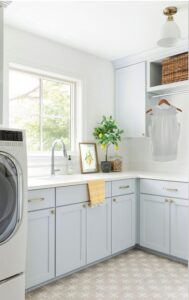 The more light and airy your laundry room is the better you will feel. There is no alternative for fresh air and sunlight. As the laundry room is involved more in washing and drying, natural air has to pass through it. Hence, a freely opening window can make your laundry a much better place.
18. Putting Light Around Sink And Cabinet Areas
Lights, when placed perfectly change the view of the room. You can arrange lights above the sink areas and within the cabinets. This will give a dreamy appearance to the laundry room.
19. Simple And Subtle
Some modern laundry room ideas are simple and subtle. The delicate design and décor do not contain too much loudness, yet they look very heart-warming. A combination of white and grey colour gives that aristocracy to the whole thing.
20. Light Can Make A Difference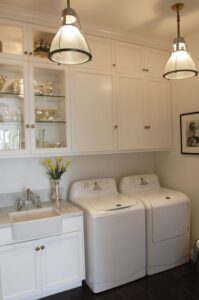 What lights you are attaching to your laundry room means a lot. It is for not only the neighbours and guests who will pay a visit to the room but also for your own satisfaction. In other words, the laundry work will not make you bore anymore. So, why not lighten up the room with beautiful modern or vintage lights!
21. Pet-Friendly Laundry Room Ideas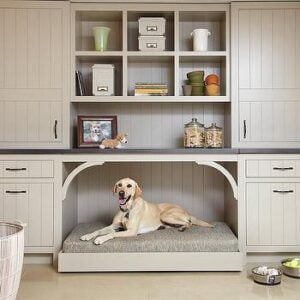 Laundry rooms can have a separate area for our pets. Firstly, it does not take up much space. Secondly, your pet can stay there comfortably. Additionally, you can arrange feeding stations too. In some cases, a wash station can be installed for multiple purposes.
22. Go Blue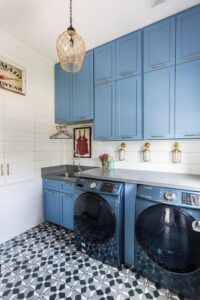 The colour blue is one of the best colors for interiors. It also stands out for the laundry room. Whether it is the lighter or the darker one, a mix of blue with white looks amazing indeed. Further, if the appliances are of the same shade, your laundry room will look perfect. Modern laundry room ideas include different shades of blue.
23. Hanging Bar With Shelf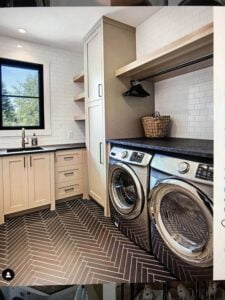 Every laundry room demands at least one hanging bar. The hanging bar can simply be above the sink, in between the cabinets, or more uniquely with a shelf. This kind of hanging bar goes great with smaller spaces. It has a dual function. On one hand, you can put the clothes on a hanger and on the other use the shelf to keep essentials.
24. Combine Laundry Room And Mudroom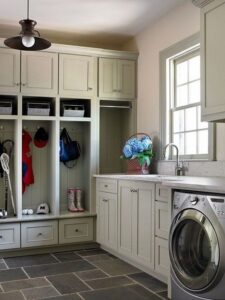 After the long tiring day, when a family reaches home, the perfect place for keeping the wearable is the mudroom and laundry room combo. Arrange space for shoes, few hangers to hang the bags, jackets, and hats. Additionally, it will be better if you can mark a separation so, that members can have their own space.
25. Make A Workstation In The Laundry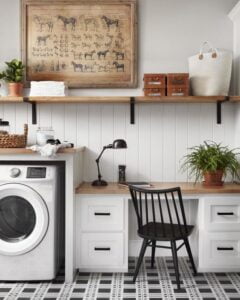 Doing laundry is not a matter of few minutes. It takes considerable time. However, in today's era of 'work from home,' we cannot afford this time. Therefore, the best option is to set up a study table or a small workstation. Instead of getting bored, you will get time to complete your pending task without moving. The total concept is neither too space-taking nor very costly.
26. Organizing The Laundry Baskets
If space does not allow taking the laundry room ideas like hiding the baskets, you can go for stacking them. Make a vertical cabinet especially for the baskets. Besides, it is better to mark them. Members of the family will be clear about their usage.
27. Accessorize Your Space
Obviously, the laundry room has a task and the minimalist design looks good. However, this does not mean you cannot decorate. Keep a shelf for yourself. Accessorize it with the elements you want. It can be some showpieces or vases or simply baskets made of bamboo. Additionally, you can use wall hangings to give it a vibrant look.
28. Using Curtains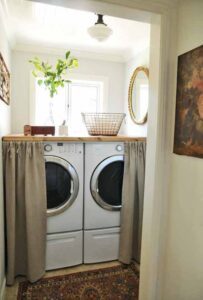 The most affordable way to separate your laundry from the rest of the apartment is a curtain. This is inexpensive but matches perfectly when the correct texture is bought. You can hide the washer and dryer using the curtain while decorating the shelf above. With such sneaky laundry room ideas, you can get your things done at the cheapest rate.
29. Pantry And Laundry Room Combo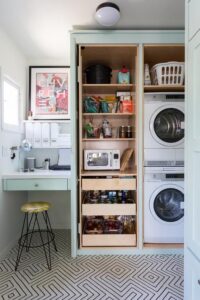 A pantry can also be a part of your laundry room ideas. If your kitchen space does not allow you to store essentials, you can accommodate by making a cabinet in the laundry. Conversely, if your pantry has more space, transform it into a combo with a laundry room. You can also use this room to keep an extra refrigerator or few utensils.
30. Use Vinyl Flooring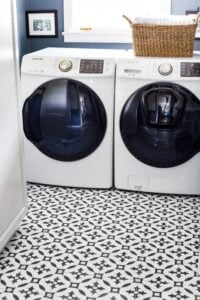 After the kitchen, the laundry room is the place where you might be moving the most. Therefore, the floor should be strong and water-resistant. Tiles are best for laundry rooms. However, vinyl flooring is another good option for an affordable rate. Not only that, you can find a variety of designs to select; and guess what!! They are completely water-resistant and stay for longer periods.
The EndNote
What you will like to accommodate in the laundry room, completely depends upon the space you have. If you have a larger space, you can put up more cabinets, decorate it with books, and even set a couch. However, if you have a smaller space, you have to go for the minimalist looks.
If you have narrower space, try using wall cabinets, rather than making extended ones. Stacking the dyer and washer is excessively important in such cases.
The laundry room ideas are a combination of décor, design, and proper organization. If your organizing is not correct, it will not look perfect even if you decorate with expensive things.