Guest blogs receive the most visits out of all of your posts. That's because you're combining the readership of both the host website and the guest author.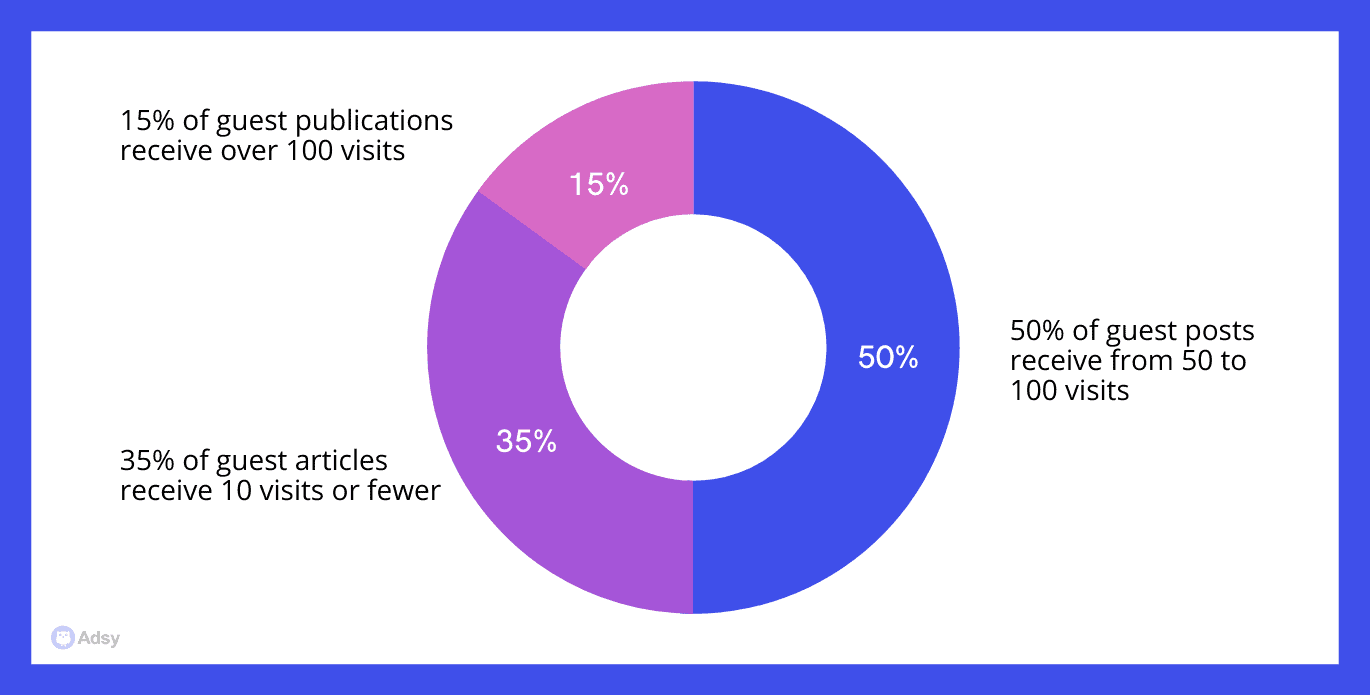 Now, whether you use a guest post service or write the blog yourself, its success depends on how you market it. And what better way to do that than on social media? In this article, let's discuss the following.
Tactics to promote guest posts on your blog
Tactics to promote blogs you've guest authored on
Promoting a Guest Post on your Site
Guest posting is a two-way street. As far as it's the author's responsibility to come up with the blog, it is yours to promote it.
As the editor or social media head for your brand, you will be responsible for coming up with the creatives and in-blog images. So the creative work will fall on your shoulders. Here's how you can use that creativity to craft social media posts.
Craft a post that piques curiosity
Unless you're one of the top 10 brands that have site visitors no matter what, your social media posts need to make an impact. And an impact isn't made with just a "hey guys, check out our new blog" type of post.
You need to appeal to the readers' curiosity. Puzzles or quiz-type posts could be a good lead-in to an article. If your article title is "Top 10 Ways To..", create a sense of urgency with your post.
There's no one formula to do this. It is subjective to the type of article you're trying to promote.
Post a killer visual
Images and videos are what the audience sees first. It's the largest portion of a post. Videos aren't typically used to promote a guest blog, but you could use gifs.
As you can see, multimedia-based posts are the most engaging.
The header image for your social media post can match the blog image. But that's repetitive.
One of the best ways to grab attention is with memes. A little touch of humor will go a great way in increasing post engagement.
Find a header image that your audience can relate to. This is more likely to increase link clicks.
Tag all relevant people
When a guest post is shared, there are 4 parties involved. The guest author, the brand of the guest author, your brand, and you. That means there are a lot of people to tag on your post.
By tagging accounts, their followers are alerted to your post. This means there will be more engagement for your post and hence more readers.
Tag at least the guest author and their brand. This will open up the way for post sharing and engagement.
Integrate social media on your blog page
This should be something you've done for SEO purposes already. But if you haven't done it immediately.
Insert icons to your major social media profiles. This makes it easier for readers to share your blog on their page.
In some blogs, you can highlight text, which will immediately allow you to quote that text on your Twitter profile. Activate this action on your blog page.
Promoting your Guest Post on another Site
Most bloggers have posted at least once on another blog.
But your job is not done after submitting the blog. You'll have to follow up with them after they publish the article. This will open up the chances for future guest post outreach opportunities.
You should also post the blog you've written to your social media pages. Here's how you can do that. For that, you need to find a reliable agency that offers guest posting services.
Reference a portion from the article
No one knows your article better than you, the author. So pick a part of your article that you think sells the point. Insert this as a quote in either the header image or even in the body of your post.
This is a good way to let readers know what they can expect from your article.
Hearing from an authoritative figure, like the author, would also convince the readers to click.
Create a social media-friendly title
Most webmasters allow you to choose the title of the article. When you do, make sure you think about how social-media-friendly it is.
Of course, the title has to be SEO friendly – have the appropriate keywords and length. But some titles also tend to do better on social media posts.
How to
Reasons why
Benefit
Discover
All these title starters do well on social media. This is because they all give readers a feeling that they will benefit from reading the article.
General tactics for promoting guest posts
The following hacks apply to everyone promoting blogs on social media.
Share other bloggers' blogs
Even if the blog or author you're sharing has nothing to do with your brand, share an article of theirs on your page. This can open up the path for future guest blogging opportunities.
Make sure you tag the author. Go one step further and reference a portion of their article in your post. This will tell them you read the article and genuinely liked it.
Make it a point to share these random blogs once a week. It's a good way to increase your social media posting count as well.
Hashtags are still in
Many sources will try to convince you that hashtags are a thing of the past. Even Instagram recommends that you only use 3-5 hashtags on your post. But hashtags are good for your content.
It helps categorize your posts. Choose the 2nd most used hashtag for each category. This will ensure your post doesn't get lost amongst other, higher-ranking content.
And if you're posting on Instagram, add your hashtags to the comment section and not the description. This will keep your feed looking neater.
Post in groups and forums
Every social media platform has groups related to every topic under the sun. Join these groups and consistently post relevant content on them.
Don't always make posts that link to your brand. If you keep doing that, the group members aren't likely to take your blog posts seriously. And you may get kicked out.
Once you gain enough authority in your subject matter, you can create your own group. Since you'll be the moderator, you can decide what type of posts will end up in the group.
By following these tactics, you can increase engagement on your social media posts. And with every extra link click, there's a possibility for extra revenue.