From reel-life boyfriend-girlfriend duo Nancy Wheeler and Jonathan Byers in Stranger Things to real-life couple Natalia Dyer and Charlie Heaton, they have an excellent experience in every aspect of their life together.
It was September 2016 when rumors of Natalia and Charlie's relationship began for the first time. A year later, the couple confirmed the rumors of dating each other with a simple act of PDA. Now, they are happily in a relationship, enjoying each other's company.
Continue reading the article to know the complete story.
Who is Natalia Dyer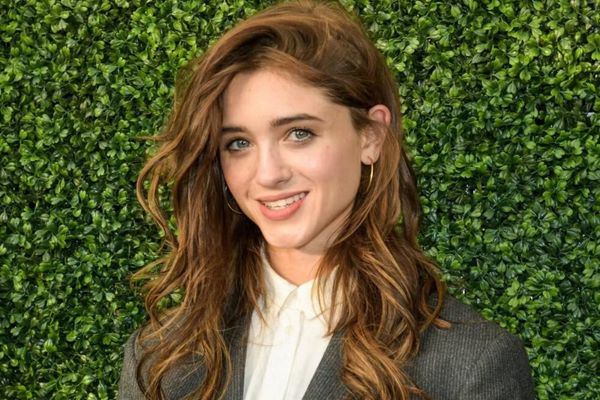 Before getting into the topic, let me give you a little brief of both these celebrities.
Natalia Danielle Dyer, professionally known as Natalia Dyer, is an American actress known for playing Nancy Wheeler's role in the Netflix science fiction horror series Stranger Things. She was born on 13 January 1995 in Nashville, Tennessee, United States.
During her adolescence, Natalia started acting in a community theatre. In 2008, she made her professional acting debut in Hannah Montana: The Movie. Natalia did her schooling at the Nashville School of the Arts.
After graduating from school, she decided to move to New York City and enrolled at New York University to pursue higher studies. She worked in prominent movies, including the comedy-drama Yes, God, Yes, Velvet Buzzsaw, and Things Heard & Seen.
Who is Charlie Heaton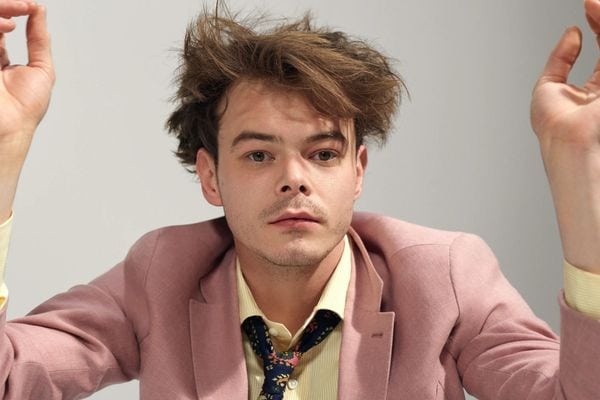 Charlie Ross Heaton, professionally known as Charlie Heaton, is an English actor known for starring in Jonathan Dyers in Stranger Things. He was born on 6 February 1994 in Leeds, West Yorkshire.
Charlie was raised by his mother in a small coastal town in Yorkshire. Talking about his career, he was a musician in the beginning. Before starring in Stranger Things, he appeared on British television.
How and When Natalia and Charlie Meet each other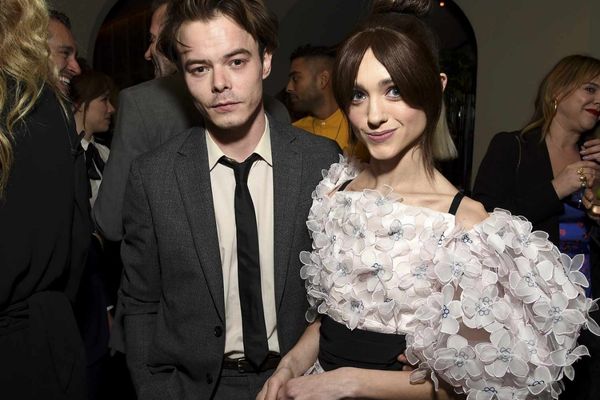 Natalia and Charlie first met on the set of a Netflix science fiction horror series, Stranger Things, in July 2016. They both were playing a girlfriend-boyfriend duo in the series. Not only were they meeting on the set, but they were also meeting off the set.
After the series' success, Natalia and Charlie became famous, and their faces and names began getting widely recognized by the media and the public. So even their small activity can be easily identified by their fans.
Just like when they began posting each other's pics on their Instagram handles. It gave a hint to their fans that they were dating each other.
View this post on Instagram
On 10 September 2016, Charlie Heaton shared a picture of him and Natalia sitting on a mountain with one of their mutual friends on the island of Menorca.
View this post on Instagram
After a few days, Natalia also shared a picture of Charlie with birds on both his hands, head, and shoulder. It clearly shows that something is happening between them.
Things that start creating rumors about Natalia Dyer and Charlie Heaton being in a relationship
After sharing each other's pictures on their social media handles, their fans start wondering if there is more to their relationship. Yes, these things began creating rumors about Natalia and Charlie dating each other.
View this post on Instagram
On 29 October 2019, the couple was seen celebrating Halloween and matching their costumes. Natalia and Charlie, along with two other friends, decided to dress up as the four main characters from The Wizard of OZ.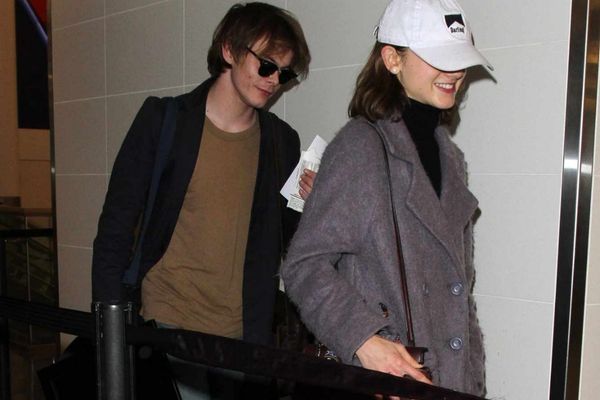 It doesn't stop here. The couple was also caught hanging outside. On 9 January 2017, they were spotted leaving LAX. They went on to attend the 74th Golden Globe Awards, in which Stranger Things was nominated for the best television drama.
A source that confirms these rumors
Before the initial speculation began, Life & Style magazine reported that Natalia and Charlie were an official couple. They stated that the couple was in a relationship before season two of Stranger Things began filming in October.
It is confirmed that they're dating each other. They stated that Natalia and Charlie are in a relationship and spend every waking minute together. According to Life & Style magazine, Natalia even took him to her hometown to meet her parents.
How Natalia and Charlie reacted to the rumors that they are dating each other
Firstly, Charlie and Natalia neither confirm nor deny the rumors about dating each other. After the couple was spotted together at LAX for the second time, TMZ enquired about their relationship status.
The cameraman asked, "Is it hard to blend personal and professional lives, and dating one of the co-workers would be perilous? They asked in a way to confirm whether the couple was actually dating or not.
However, Natalia deflected the question by saying that if she and Charlie are close, it is only because the complete cast of Stranger Things are very close to one another.
During the shooting, the complete cast of Stranger Things was an entire family. However, the cameraman is not satisfied with her answer and directly asks if she is dating Charlie or not. In response, Natalia leaves with Charlie, saying have a nice day.
The couple confirmed their relationship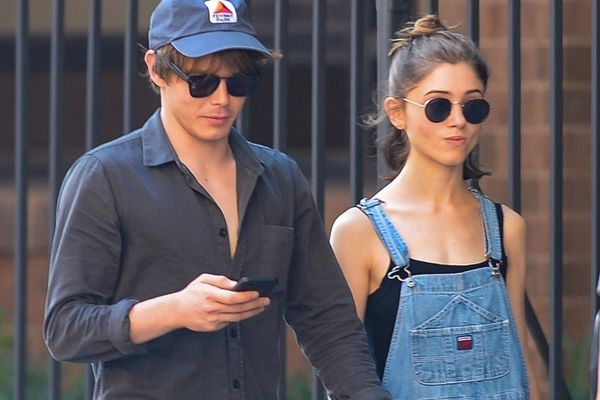 On 4 October 2017, the pair confirmed rumors that they were dating each other with a simple act of PDA. They were spotted walking down the street holding hands in New York City. On 7 November 2017, Natalia and Charlie were caught spending quality time together in Paris.
They made sure to have a tour of the city while doing press in Paris for Stranger Things. The couple enjoyed each other's company and found some time to do window shopping. They were also caught kissing each other in the middle of the street a week later in London.
It showed the affectionate love between them. During an interview with a US weekly reporter, Natalia opened up about her relationship with Charlie. Natalia said that the thing she loves the most in him is he doesn't mess with the scenes too much.
He is just great to work with and super talented, like everybody in the cast. On the other hand, Charlie also said that she is like an emotional support system to him in his magazine cover story.
Charlie stated that it provides emotional support when someone in your life is also going through the same phase. At the 2017 Fashion Awards in London, Natalia and Charlie decided to make their relationship official by hitting the red carpet together.
View this post on Instagram
On 13 January 2018, Charlie posted a sweet happy birthday message to Natalia with a picture of her holding a piece of cake on his Instagram handle. He also wrote a sweet note with a PS, which hinted at their plans for later in the evening.
What was the complete Story Behind the False Rumours about Natalia and Charlie's Separation?
The false rumors about their separation began emerging over the internet after a report came out that Charlie was seen in Victoria Park, London, with a mysterious person.
Then one of the fans starts saying that Charlie is having a fun night out with his friends, and Mysterious is his closed one. In this, someone was a girl. That's why people doubted their relationship.
charlie heaton and natalia dyer ARE NOT broken up you guys!!! that girl is charlie's close friend

and here is a picture of charlie and natalia at that girls wedding 😭 pic.twitter.com/LFZ5KsCdAp

— nance (@dyersfilms) August 22, 2022
But these rumors were all false when one of his Twitter fans shared a picture of Natalia and Charlie present at that girl's wedding. The Twitter fan also said that the couple is broken up, guys.
Most of their fans even slammed the breakup rumors and called them evil. One of the Twitter fans said that whoever spread these rumors is genuinely evil.
Charlie Heaton and Natalia Dyer have the cutest relationship ever. pic.twitter.com/2hIT5WFpGC

— c. (!!THEY/THEM!!) ♡ | BENVI ENDGAME (@Sapphicsjancy) August 22, 2022
On the other hand, one Twitter fan celebrated their relationship by sharing their pictures with a sweet message saying they have the cutest relationship ever.
Natalia Dyer Then and Now:- Why she is looking different in her recent pictures from her previous ones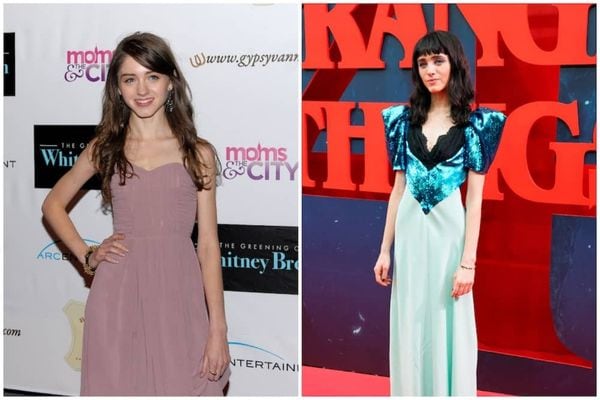 There is a big difference between her recent pictures from her previous ones, as you can see in the photo above. It seems that she lost a lot of weight. Some feel that she might lose weight for a role in a movie.
But on the other hand, her fans fear that this weight loss is not a movie. Currently, she weighs around 48 Kg, a reduction compared to 2021, when she weighed 55 Kg.
However, some rumors revealed that she was anorexic due to her frail appearance. Anorexia is an eating disorder causing people to obsess about weight. But there is no confirmation of these rumors.
Frequently Asked Questions
1. Who is Natalia Dyer's Boyfriend
Her boyfriend is an English actor and one of her co-stars from Stranger Things, Charlie Heaton.
2. When did Natalia and Charlie first meet each other?
In 2016, the couple first met on the set of a Netflix science fiction horror series, Stranger Things.
3. What is the current relationship status of Natalia and Charlie?
They both are in a happy relationship, enjoying each other's company.
4. What was the role of Natalia Dyer in Hannah Montana?
In Hannah Montana, she played the role of Clarissa Ganger, who is on a mission to uncover the pop star's true identity.
Wrapping Up
From reel life to real-life pair, there is a fantastic love-life journey and bonding between Natalia Dyer and Charlie Heaton. We all have to show respect for their relationship and how affectionate love they are showing each other.